Fall Activities
One of the most amazing views in all of Big Bear, the scenic sky chair is one of the top fall activities in Big Bear. Spanning over a mile at 8,200 feet, this 15-minute ride is perfect for hikers, sight-seers and also transports mountain and cross-country bikes through the San Bernardino Nation Forrest.
Could there be anything more exciting than flying through the air in between trees and above the forest floor? We didn't think so. Ziplining not only offers great view of the surrounding area, but also gets your heart racing. Don't miss out on screaming through the forest 100-800 feet above the ground.
If high-intensity fun isn't your thing, maybe riding the trails through the national forest is. Ranging from quick one-hour rides to full day expeditions, the Baldwin Lake Stables offer tours centered around the riding or even just seeing the sights. Additionally, they also have a petty zoo and pony rides for children.
Yes, big Bear has a zoo and it also has bears! Not your typical zoo, the Alpine Zoo operates as a, "a rehabilitation facility offering injured, orphaned and imprinted wild animals a safe haven; temporarily while they heal or permanently as they are unable to survive on their own."
The zoo has multiple local animals, ranging from black bears to bald eagles and snow leopards to mountain lions. Ticket prices range from $9-$12 and the park is open daily from 10 AM – 5 PM.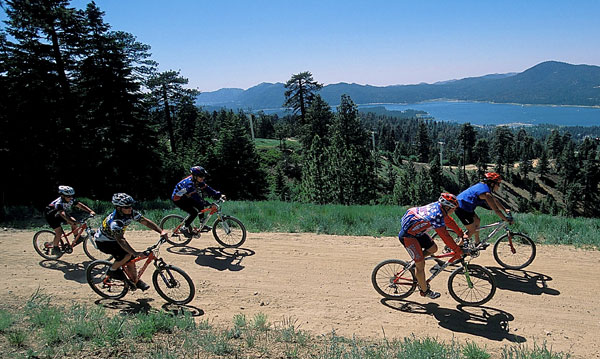 Big Bear is obviously known for its ski slopes, but in the summer and fall, those areas turn into amazing mountain biking trails. Bear Valley Bikes is our preferred rental and retail company. They will be able to help you no matter if you are a beginner or mountain biking master.